Vapour-Tight Tanks
Vapour tight tanks are intended primarily for the storage of volatile liquids. Vaportight tanks hold and use pressure to force gas vapors to a flare stack. Vaportight tanks also known as (Tornado type tanks, Positive Pressure Systems, and OSY Tanks) are frequently packaged with an integral separator package, flare stack, and all other equipment downstream of the wellhead to form a complete single well battery. Because of this Vaportight tank packages are a mostly used in the temporary production of oil wells.
SOUR SERVICE, SINGLE-WALLED, API 620 14.9psi 400 BBL. TANKS
Built to API 620 (Design Pressure 14.5psi)
12'-0" O.D. x 20'-0" High
8" wide flange 3 saddle L skid
1/4" Floor and Shell  5/16" Roof
Sour Service "Crosby" Pressure Relief Vent on N5
(1)Sour Sealed Hawkeye Gauge Head

Hawkeye 62M3 gauge board c/w guide wires, poly float, and hardware.

VAULTED - METER RUN FOR GAS MEASUREMENT.

3" #150 ESD Valve on N7
3" Senior Meter Run c/w 202E Barton Chart Recorder
3" #150 BPCV Kimray (downstream meter run)
CVS High-Pressure Shutdown Switch
Pneumatic High-Level Shutdown Switch
Fuel Gas Scrubber
Cata-dyne Heater & Nitrogen Bottle for operating instrumentation

1 – Standard 8" Removable Fire Tube c/w Throat and Stack. (500,000 BTU Rating)
1 – 2' x 4' Standard Shell Manway c/w gasket and bolting
20' Standard Ladder.
1 1/2" to 2" R-14 insulation painted black
Fully Internally Coated with Enviroline 2405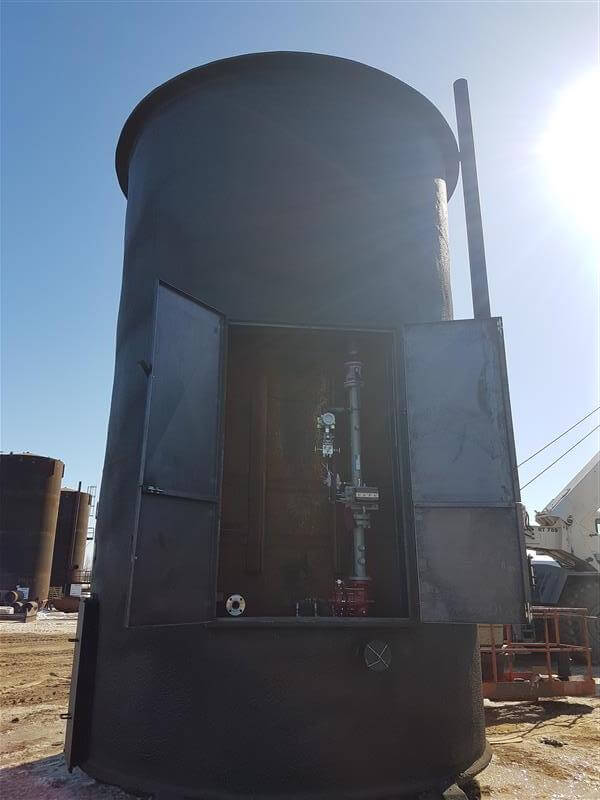 Looking for more information? 
Not The Tanks Rentals Products Your Looking For?